New Britain Museum of American Art
The New Britain Museum of American Art (NBMAA) is the nation's first museum dedicated strictly to American art. The museum was founded in 1903 with a $20,000 gift of gold bonds from industrialist John Butler Talcott.
The NBMAA collection represents more than three centuries of the major artists and movements of American Art. Today, it contains more than 8,400 paintings, works on paper, sculptures, videos, and photographs.
Among collection highlights are colonial and federal portraits, Hudson River School landscapes, and American impressionists. Strengths of the 20th century collection include works by members of the Ashcan School; significant representation by early Modernists; and ambitious examples of regionalist painting, including Thomas Hart Benton's celebrated five-panel mural, "The Arts of Life in America" (1932).
CRIS Solution
CRIS teamed up with the New Britain Museum of American Art to provide audio descriptions of selected pieces from its permanent exhibit with QR Codes scanned by a visitor's personal smartphones. Those CRISAccess audio recordings feature works of art by the following artists:
Mary Stevenson Cassatt, "A Caress"
Dale Chihuly, "Blue and Beyond Blue"
Sol LeWitt, "Wall Drawing 1196"
Albert Bierstadt, "Seal Rock"
Thomas Hart Benton, "The Arts of Life in America,"(1932)."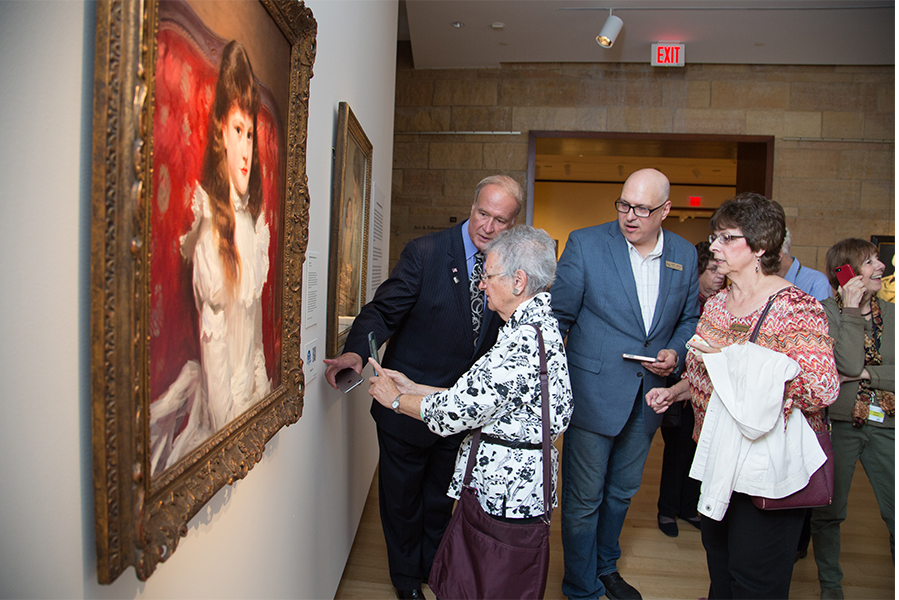 "We're really excited about this technology and we hope to expand on it. We believe that museums are for everyone and that having access to art can contribute to a more complete life."
~ Jeffrey Mainville, director of operations,
New Britain Museum of American Art
"On a recent visit to the Museum of American Art in New Britain, Connecticut, I had the wonderful experience of using a QR (Code) reader app to learn about some of their exhibits. I am low vision so it is very difficult to get any information about exhibits. I would find myself trying to read the small plaques beside works of art and not have much success in the dimly lit museums. Well, I and two fully sighted friends learned more than any plaque would tell us about both the piece of art and the artist's background as well! I look forward to finding these experience enhancing barcodes throughout different venues in the state. Two thumbs up for this amazing project!"
- Deb Reed, President
National Federation of the Blind, Central CT Chapter
Lewitt
Chihuly
Cassett
Bier
Benton